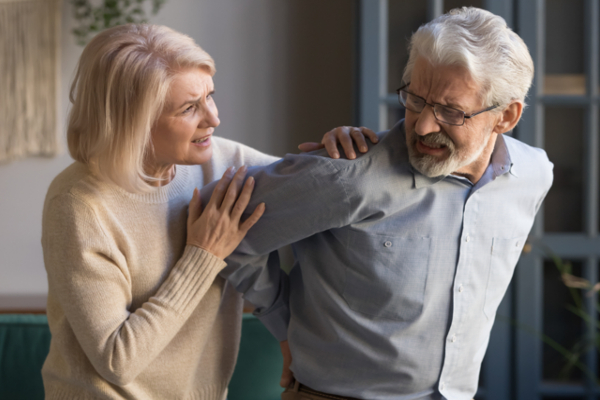 From the base of the skull to the tailbone, our spinal column consists of 24 bones called vertebrate and the sacrum. Between each vertebra is a cushioning disc that absorbs impact and allows us to move with ease.
A herniated or slipped disc occurs when the soft center of a spinal disc pushes through the outer layer of the spinal canal.
While men are twice as likely to experience a herniated disc, anyone can be at risk. This tear or rupture most often affects the lower back or neck. What should you know to prevent a herniated disc?
Do I Have a Herniated Disc?
A very common injury, more than 3 million people experience a herniated disc each year. Unfortunately, this condition is often misdiagnosed as:
Piriformis syndrome – when the piriformis muscle in the buttocks compresses the sciatic nerve.
Degenerative disc disease – when the spinal bones are not moving properly, the disc loses its ability to remain strong and healthy. Over time, the disc will thin, bulge and ultimately rupture.
Osteoarthritis – when the cartilage at the ends of bones wears down over time.
One reason why this condition can be mistaken for another is the location of discomfort. A herniation also irritates the surrounding nerves.
A slipped disc in your back affects the legs and lower internal systems, including the bladder and digestion, while one in your neck may cause pain in the upper extremities, which causes tingling, numbness and weakness.
Causes of a Herniated Disc
The leading risk factors for a herniated disc include age, obesity, occupation and sedentary living. Often the result of a sudden impact, injury or age-related wear-and-tear, a herniated disc can also happen as a result of the following.
Bending
Our core and back muscles allow us to bend forward. When these muscles are weak or inflexible, this motion can place excess force on the vertebral discs. To bend safely, stand with your feet shoulder-width apart and bend at the hips and knees rather than the waist.
Lifting Heavy
Similar to bending, if you lean forward incorrectly and try to lift a heavy object the additional weight can rupture a disc. To properly lift, squat down and keep your back straight, chest out and shoulders back as you grip and raise up the item.
Exercising
A herniated disc can result from lifting heavy weights or performing repetitively strenuous activities. Particularly for runners, tight hip flexors can pull the pelvis forward and place strain on the spine. On the other hand, a sedentary lifestyle can lead to pinched back nerves.
Poor Posture
If your job requires you to stand or sit for long periods, the spine can develop a forward bend that places more pressure on the discs. Take frequent breaks to move, sit or stretch.
How a Chiropractor Can Help
An injury to the spine can affect other areas of the body. A complete consultation will help us determine if you have a herniated disc, including a physical exam and X-rays to see if any discs have thinned.
During the physical exam, your reflexes may be tested to ensure the nerves are functioning properly and muscle strength assessed for any weakness.
To treat a herniated disc, a specific treatment plan will be developed for your individual condition, including spinal adjustments. We may also suggest lifestyle changes, such as eating healthier and getting more exercise.

At The Chiropractic Health Center of Glastonbury, we take a wholistic approach to patient care for overall improved wellness. To learn more about our services, contact us today!