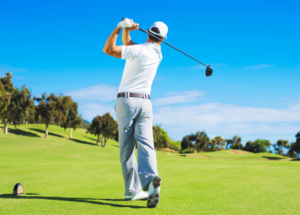 The Journal of Chiropractic Medicine and professional athletes both confirm: Working with a chiropractor can help improve your golf game! While our doctors won't be out on the links with you, we're confident the care received off the course will translate on your score card.
What can the team at The Chiropractic Health Center of Glastonbury do to help golfers?
Relieve Stressed Muscles
Swinging a golf club continuously through an 18-hole round can wreak havoc on the muscles. When your body repeats the same motion, the muscles being used become exhausted over time. If you continue the same motions despite this muscle fatigue, you risk experiencing an injury. The surrounding muscle groups are also jeopardized, as the body will start to compensate in other areas. When golf takes a toll on the neck, shoulders or back, a chiropractor's knowledge of the body and central nervous system can have a big impact.
Body Realignment
Repeating a full body golf swing over and over can knock the spine out of its normal position. As a result, you may experience pain from a preexisting condition or herniated disc.
We work with patients to assess their pain points and relieve pressure. Nerve compression can impede range of motion, which is critical to your golf game. We further release tension through gentle adjustments that realign the spine.
Maintaining Your Body
Leading up to a trip to the golf course, always be sure to practice your swing – especially after a break from the sport. Whether you practice in the backyard or at the driving range, ease yourself back into the motion before trying to hit a ball.
Prior to playing a round, get the muscles loose with proper stretching and remember to drink plenty of water. Dehydrated muscles become tight, which increases risk of injury.
As you walk the course, avoid carrying your bag at all costs. Golf clubs can be extremely heavy and holding all that weight is dangerous for the shoulder. Either roll the bag alongside you or use a golf cart to reduce further strain.

At The Chiropractic Health Center of Glastonbury, we help patients restore body and nerve function to reach peak performance. To learn more about chiropractic care for your golf game and overall wellness, contact us today!